Are you a basketball, field hockey, ice hockey, rugby union, football (soccer), or volleyball coach who wants to contribute to the advancement of your sport and coach development? Are you interested in the playmaker position?
If yes, please get involved!
To be eligible to participate, you are required to be over 18 years old and have a minimum of two years coaching or related experience in basketball, field hockey, ice hockey, rugby union, football (soccer), or volleyball. Note that participation in the research is completely voluntary and at any stage you may withdraw without explanation, and it will not negatively affect you in any way.
Please download the Participant Information Sheet here.
If you agree to participate in this study, you will be asked to complete two stages of data collection.
Stage 1 takes approximately 10 to 25 minutes to complete and includes an initial coach questionnaire, and a CoachDISC Profile survey. The initial questionnaire asks about your coaching and playing history, your opinions about player positions and captains, and general information about you. The CoachDISC Profile survey has 30 questions which ask you to choose words that are most like and least like your behavior as a coach.
Stage 2 asks you to consider the playmaker position you identified in Stage 1 and answer an AthleteDISC Profile survey based on how you would want the ideal player in this position to answer (i.e., answer this survey as if you are the ideal player you would want in this playmaker position). The AthleteDISC Profile survey is similar in design to the CoachDISC Profile completed earlier. This stage is anticipated to take between 10 and 20 minutes in total.
The questionnaire and surveys are completed online and require a computer or electronic device, and a reliable internet connection.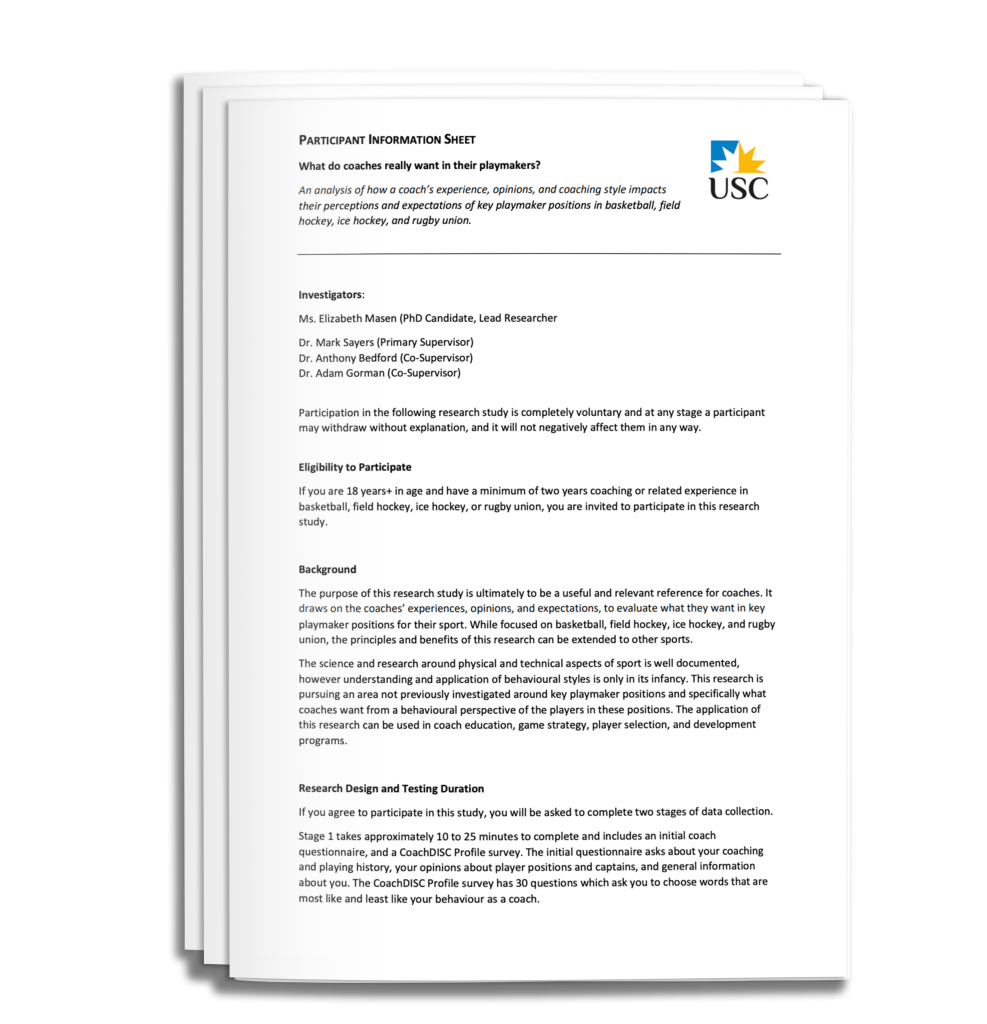 Download Participant Information Sheet
Football (soccer) Coaches